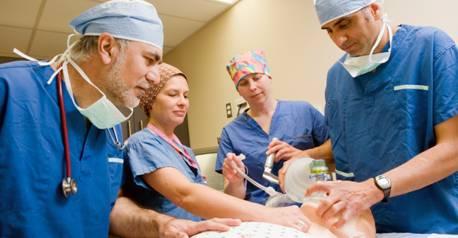 Official BC Simulation Technology Working Group (BC STWG) Documents and Resources
Simulation Program Development Guide
This document (PDF) provides useful information for the development and operationalization of simulation centres, programs and courses for the purpose of health care education. It is based on notes gathered during the 12th Annual International Meeting on Simulation in Healthcare in 2012, and does not include a literature review or industry analysis.
Simulation Facility Infrastructure Design Guidelines
The BC STWG-commissioned report provides infrastructure guidelines and reference designs for facilities that are purpose-built to house patient simulation mannequins. It is written for an audience of architects, functional programmers, project leads, engineers, or other professionals involved in the facility design process. For access to the design guidelines document, please contact Ferooz Sekandarpoor, Chair, STWG at ferooz.sekandarpoor@ubc.ca.
Provincial Simulation Recording/Debriefing Solution RFP
With the recent acquisition of Medical Education Technologies by CAE, the new CAE Healthcare was formed. As a result, there have been changes to the product and services previously offered by both companies. For more information on how this will affect the LearningSpace and OWL technologies, please refer to this letter provided by CAE Healthcare (PDF) as well as this letter provided by the Vice President of Business Solution of CAE/METI (PDF).
This RFP, issued by UNBC and sponsored by the BC STWG, provides opportunities for all BC public sector organizations to onboard through the resulting vendor agreements, allowing for partner simulation facilities to achieve better value for money while standardizing on common technology solutions.
For more information about the Debriefing Solution RFP, please contact Sheila Keith, Director of Purchasing, Contract & Risk Management by email at keiths@unbc.ca or by phone at (250) 960-5502.
STWG Guest Presenter Sessions
Faculty Development – October 23, 2015 (Video will play automatically)
This presentation covers the current state of the clinical simulation session collection process and the different types of reports that are produced from its data. Michael Lundin has been with the Northern Clinical Simulation Program since 2011 supporting project and operation work as its coordinator. During this time he has implemented a data collection system that has proven effective in having diverse abilities to draw key reporting information. The initial goal of collecting statistics was to report simulation use to the program's primary stakeholders. When we started we knew that collection of use was important; looking back collecting all session information has proven invaluable. With the addition and modification of key column's and formula's the reporting has grown more robust with great abilities to mine down and provide more specific usage reporting.
Faculty Development – May 23, 2014 (Video will play automatically)
Dr. Chin is a Pediatric Anesthetist who trained and worked in the UK. He has been working in Simulation Education since 2000 and recently decided to undertake a MA in Clinical Education (London) which he completed in 2011. The topic of his MA thesis was a Simulation Train the Trainers Course. He has been organizing and running Train the Trainers courses at a local, national and international level for several years. He moved to Vancouver to work at BC Children's Hospital as a Pediatric Cardiac Anesthetist at the end of 2012 and has continued to work in Simulation Education. He runs a Train the Trainer's Course at BC Children's Simulation Centre.
External Resources
Conferences