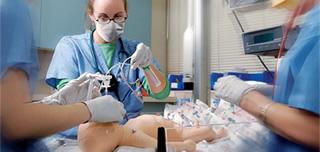 Purpose of the BC STWG
The BC STWG is a volunteer-based community of practice providing technology leadership and support to simulation centres across British Columbia. It works to help simulation initiatives achieve their objectives of enhancing patient safety and improving health professions education by:
Combining regional resources towards common needs
Identifying innovative practices in the use of simulation technology
Encouraging the adoption of standards that will support anticipated curricular objectives.
In 2010, the BC STWG was formed as a working group, reporting to the BC Task Force on Simulation, to address the immediate needs of multiple simulation site developments across British Columbia. The year prior, the UBC Faculty of Medicine had launched the BC Task Force on Simulation, an inter-professional task force to develop a province-wide strategy for the adoption of simulation technology. While this task force worked at the strategic level to situate simulation within current health professions education programs, the BC STWG provided a venue for individual sites to receive peer support and work together on common technology needs.
Membership
The BC STWG currently includes technology and/or clinical representatives from the following organizations :
University of British Columbia Faculty of Medicine
University of Northern British Columbia
The Centre of Excellence for Simulation Education and Innovation (CESEI)
BC Children's Hospital and BC Women's Hospital and Health Centre
University of Victoria (University Systems)
Nanaimo Regional General Hospital Human Factors Lab and Simulation Program
Accomplishments
The BC STWG has completed a significant number of activities since January 2010, including:
Authoring an infrastructure guidelines report. This report includes functional descriptions of simulation facilities, detailed specifications for technology infrastructure (including recording and debriefing software), and an overview of the design coordination process
Providing temporary design coordination support for technology infrastructure in simulation facilities at Nanaimo Regional General Hospital and Fort St. John Hospital
Hosting two days of demonstrations for the BC STWG and interested parties to evaluate and compare the market leaders in software systems for recording and debriefing patient simulations as a precursor to procurement efforts.
Leading a procurement exercise to establish a provincial purchasing agreement for a recording and debriefing solution that can be accessed by any public sector institution in British Columbia, with the underlying objective that this will promote the adoption of common standards among post secondary institutions and health authorities, as well as increase purchasing power across the province
Current Focus Areas
The BC STWG is currently pursuing work in the following three focus areas:
Identifying best practice knowledge and developing collaborative infrastructure to increase service delivery quality and cost effectiveness
Building operational capacity for sustained cooperation between regional simulation programs
Increasing impact through awareness and collaboration to maximize utilization of BC STWG-developed resources