January 28 is International Data Privacy Day. Do you know how to protect your data?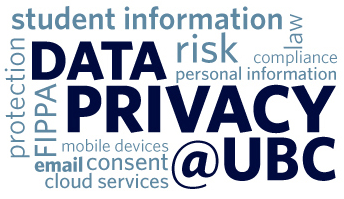 The operations of the Faculty of Medicine depend on its ability to move information from place to place. Whether it's producing a student evaluation, partnering with another institution for medical research, or coordinating a new employees' direct deposit, we move and store information electronically as a day-to-day activity.
Yet, the information, or data, we send electronically can make us vulnerable to online attacks. International Data Privacy Day, held every year on January 28, reminds us to think carefully about how to protect our personal information and the personal information of others. As faculty and staff of a university, we not only need to be conscious of protecting our own information, but also act as stewards for the information trusted to us.
FIPPA at UBC
Data stored on Faculty of Medicine computers and servers includes personal information, like staff and student addresses, grades, evaluations, and payroll information. Under The Freedom of Information and Protection of Privacy Act (FIPPA), it is our legal responsibility to ensure that we protect this information as best we can.
FIPPA serves to make public bodies more accountable and to protect privacy. Under FIPPA, UBC and other public bodies are responsible for the safeguarding of personal information trusted to them. Personal information can include biographical, financial, educational, and employment information. Information stored electronically is especially vulnerable to loss or misuse, which is why it is important to be aware of safe data privacy practices.
Actions you can take:
There are many other measures that you can take to protect your own personal information and the information that you act as a steward for. Access the resources listed below to learn more. If you have any questions about the actions listed above, please contact the MedIT Service Desk.
Additional Resources