Awards for Technological Innovation
The Faculty of Medicine's distributed medical education program has won two national awards for innovation in medical education—the Ted Freedman Award and the COACH Best Innovation in Technology Award.
The awards acknowledge the technological innovation and provincial partnerships behind the first-of-its-kind distributed medical education program. The Faculty of Medicine launched its distributed program in 2004 with a straightforward but ambitious goal: to increase the number of graduating physicians and address the shortage of rural doctors in British Columbia.
Ted Freedman Award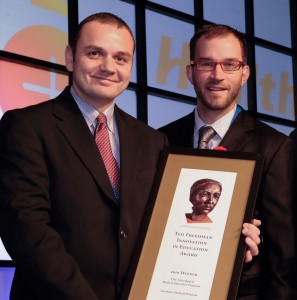 Ted Freedman Award – named for the former President, CEO and Vice Chair of Mount Sinai Hospital in Toronto – is an international competition organized by Longwoods Publishing and the Ontario Hospital Association. The jury uses three criteria to evaluate nominees: the value of the innovation as an agent of change, the evidence of the project's success, and the appropriate use of technology. There were 18 nominees.
Not only does the distributed program "address the shortages of medical doctors in underserved regions," Longwoods notes, "[it] produces doctors educated in British Columbia who stay in British Columbia."
---
COACH award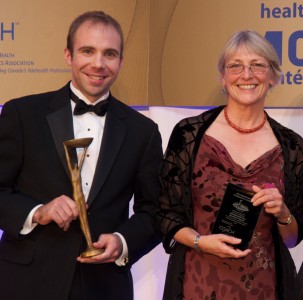 Our second award, presented by COACH: Canada's Health Informatics Association, is given every year to a program, project or service provider that demonstrates an innovative application of technology and learning in the field of telehealth. COACH notes, "UBC is the first medical school in North America to leverage highly-integrated and scalable audio-visual and collaboration technologies as part of the core strategy for distributed medical education."
Partnerships throughout the province are a key aspect of the distributed program's success. The network includes UBC's Vancouver and Okanagan campuses, the University of Victoria, and the University of Northern British Columbia.
Over 20 hospitals in all six of the province's health authorities make critical partners in providing medical students with clinical experience in urban, regional, community and remote settings.
The distributed program has become the de facto standard for similar efforts throughout North America. To date, 47 medical schools have visited UBC to learn from its example, and the program has been replicated to varying extents to connect medical campuses across North America.